About Us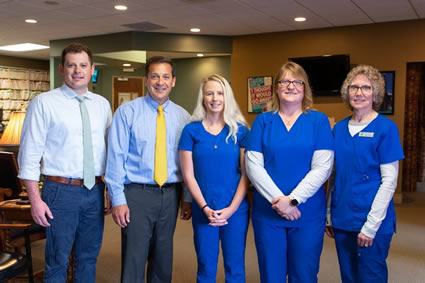 Swickard Chiropractic Clinic began in 1990, after Dr. Bruce Swickard graduated from Cleveland University in Kansas City, Missouri. It was always his dream to open his own practice, and it has continued to grow over the years. In 2019 his son, Dr. Nick Swickard, graduated from chiropractic college and joined his father in practice.
It All Starts With Listening
Over the years, our team has worked tirelessly to improve our patient care, procedures and customer service. We're proud to be constantly fine-tuning what we do, making sure you get the best of the best every time you see us!
You'll find that we listen carefully to find the best strategy for your particular concerns and challenges. We'll work together in a partnership with you to maximize your results. By following the golden rule and treating you as we'd want to be treated, you'll get the respect, attention and honest answers you deserve!
Our Practice Philosophy
Chiropractic offers a holistic approach that is unique to any other form of health care. Our patients are looking for solutions to all sorts of different problems. In health care, doctors can tend to focus on a single aspect of your health, ignoring that everything is connected. We look at your health as a puzzle that we try to put together.
As more and more people have benefited from chiropractic, the profession continues to grow. We're pleased to be a part of it!
MEET THE CHIROPRACTORS »
Get Your Life Back On Track
The majority of our patients find their way to us because they're having trouble with a musculoskeletal problem. It's a burden for many in the world. One woman sought our help after having chronic back pain for years. She'd been to a couple of doctors already, but nothing was getting better. After a few visits, she was able to go on walks again. This progress continued until her issue was resolved. Then, Dr. Nick gave her strategies to use in her everyday life so that the problem wouldn't return.
Give Conservative Care a Chance
Many people don't know what chiropractic is or whether it's the right choice for them. We want you to know that there may be an alternative to popping pills or getting an invasive surgery. Though there is a time and place for these interventions, let's start slowly. Give your body a chance to heal naturally. Contact our chiropractic office today!

About Swickard Chiropractic Clinic | (913) 897-6717