Dr. Bruce Swickard
Growing Up With Amazing Health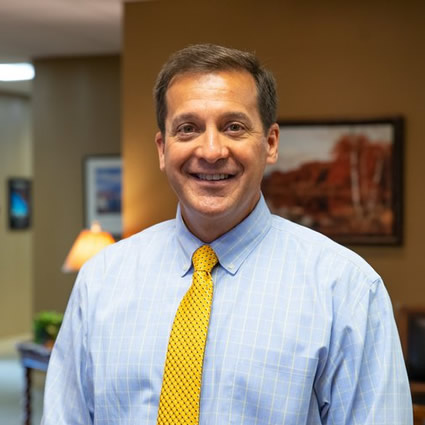 Dr. Swickard's father, Dr. Ken Swickard, gave his son his first adjustment just hours after birth. As he grew up, Dr. Swickard's parents stressed the importance of good nutrition, exercise, and a properly functioning nervous system. He decided to become a chiropractor after a neck injury while playing football and lost feeling in his hands. Chiropractic care helped, and it was enough that Dr. Swickard wanted everyone to experience that kind of relief.
Chiropractic and its natural approach to health just seemed to make sense to me.
Chiropractic Training and Additional Qualifications
To earn a Doctor of Chiropractic, Dr. Swickard attended Cleveland University, graduating in 1990. There, his many subjects included diet, nutrition, anatomy, biomechanics, and neurology. Since then, Dr. Swickard has expanded his knowledge by taking regular courses, continuing his education and passing on this knowledge to his patients. He is a Fellow of the Acupuncture Society of America.
EXPLORE CHIROPRACTIC »

Living Actively In Our Community
Dr. Swickard and his wife, Denise, have been married since 1991. They have two sons, Dr. Nick and Tommy. Dr. Nick joined the team in 2020. Tommy is a freight broker and lives in Bentonville, Arkansas. Hailing from a chiropractic family, Dr. Swickard also has a brother and a cousin who are chiropractors, as well as a nephew who is attending chiropractic school.
If Dr. Swickard isn't at the office, he's probably at one of our area high school's football or baseball games. He grew up in Stilwell and graduated from Blue Valley High School. With a strong sense of community, Dr. Swickard and Denise knew our area was the perfect place to raise their family. Dr. Swickard loves the outdoors, often going fishing and hunting with his sons. To help his body adapt to the many stresses of life, he gets adjusted regularly.
Contact Us Today
Call or email our team now to schedule your first appointment! We have late opening hours available.

Dr. Bruce Swickard | (913) 897-6717