Nutrition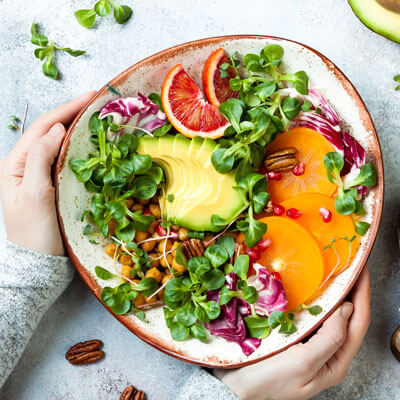 Chiropractic is one of the main pillars of health. Another vital aspect of your well-being involves your nutrition. Are you conscious of what you're putting in your body? Do you know that if you give it the right foods, you'll get more out of your body? At Swickard Chiropractic Clinic, we want our patients to understand more about their diet and how it can help them or harm them.
Our nutrition services are included as a part of your chiropractic care. You'll receive advice and tips from us on how to improve your nutrition.
How Chiropractic and Nutrition Go Hand In Hand
If you're eating substances that aren't good for you on a continual basis, such as sugar, your body won't be able to perform at its highest levels. That's when you need to start thinking about your nutrition. With the proper nutrition, your body can heal itself and maintain a state of health. But you have to give it the right ingredients to do so.
Chiropractic addresses the structure of your body and restores mobility to your joints. Along with the right foods, you'll have two critical components to great health.
It's incredible what the body can or can't do based on what you feed it. Some people eat when they're nervous or stressed, typically turning to unhealthy foods. You might notice that you're sick more often, are bloated or puffy or simply don't feel as good when you eat these foods. Along with a lack of exercise, improper nutrition can be detrimental to your health.
If you're an active person or athlete and eat junk food, your body won't be able to perform like you're used to. If you feed your body something it can utilize, however, your performance will increase. That goes for any level of athlete—whether a Little Leaguer, pro or someone who just wants to get back in shape.
Dr. Swickard has been an avid supporter of our local sports team for years. He used to coach when his sons were younger and played on teams. Once, during a soccer game, a mom brought snacks for the kids – choosing a candy bar, which most kids were thrilled to have. What was strange was that the kids crashed halfway through the game, running out of energy. At Dr. Swickard's suggestion, the team switched to fruit for their snack.
The difference was immediate. Even the kids could feel it with how they were during and at the end of the game. They could play all the way through without running out of energy. Their bodies were finally getting something they could use!
It's difficult to get your body every nutrient it needs through food. That's why we recommend certain supplements to our patients. We carry Standard Process and Innate Choice products, with an emphasis on whole food vitamins. Dr. Swickard's father, Dr. Ken Swickard, began using these high-quality products decades ago. Our patients get great results, and we can stand by the difference they can make in your life!
Often, people want to know what they can supplement in their diet. There is some general advice that anyone can use: take a multivitamin, probiotic, Vitamin D, and Omega-3. Everyone needs them and can benefit from taking them. Just with these four supplements, you can start on the road to better health.
Some of our patients are already on a diet or adhering to certain nutritional ideas when they first come into the office. If you are and feel it's going well, we won't ask you to change anything. Instead, we'll make a note in your chart to check in with you periodically about how your nutrition is going for you. If you begin to experience a problem, just let us know. We'll analyze why it might be occurring and what you can do about it.
Do you have a general diet you recommend people follow?

The Mediterranean diet works extremely well for people who want to be healthier. If you're seeking to lose weight, an easy plan to follow is the ketogenic diet. If you would like more specific information, we'll be happy to give it to you.
I think I need more specialized nutrition advice. Can you help me?

Yes. We're happy to go beyond the basics when people need it. We can order blood work and other forms of testing as needed. But you may be surprised how much better you can get with a few basic pieces of advice implemented into your lifestyle!
I want to start making changes to my nutrition but feel overwhelmed. Where should I begin?

Let's start simple: think of the top five things you know you shouldn't be eating, and stop buying them at the store. If you need to indulge, get it, enjoy it and throw out anything that's left at the end of the day. It's an effective way to break bad eating habits. When you begin eating healthier food, you'll find yourself craving those, and you won't have such a want for those unhealthy snacks.
Learn More
Contact our team today to discuss our care and nutrition Overland Park. We'd love to help you gain a healthier lifestyle!
CONTACT US »

Nutrition Overland Park, Johnson County KS | (913) 897-6717